A blind Korean artist built a 40-foot balloon sculpture in Alhambra​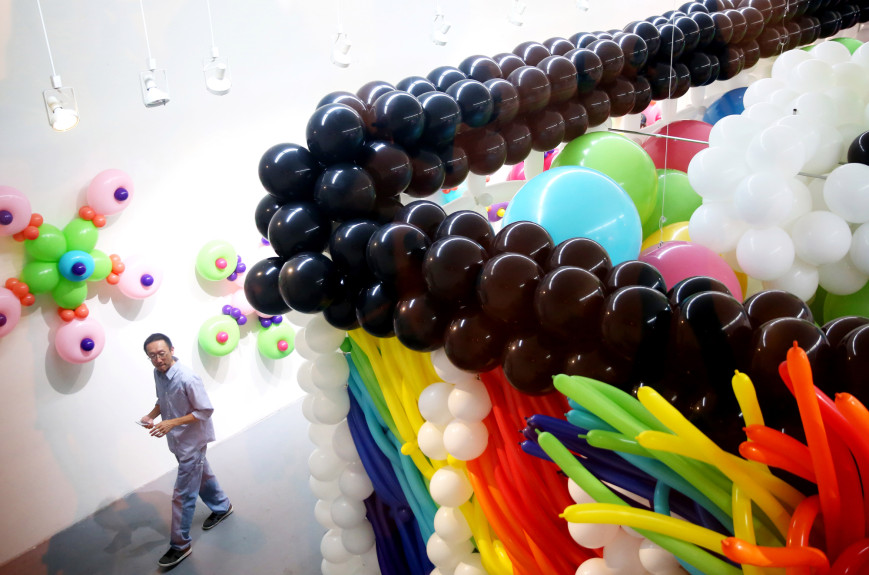 A balloon sculpture exhibit, designed by artist Hongseok Goh, a blind balloon artist
from Seoul, South Korea, is on display at Nucleus Gallery in Alhambra, Calif., seen
here on Saturday, Aug. 25, 2018. The exhibit is on display until Tuesday, Aug. 28.
(Photo by Trevor Stamp, Contributing Photographer)​ 
By CHRISTOPHER YEE | cyee@scng.com | San Gabriel Valley Tribune
PUBLISHED: August 25, 2018 at 5:08 pm | UPDATED: August 27, 2018 at 1:59 pm​ 
As his eyesight deteriorated during his teens, South Korean artist Hong Seok Goh
taught himself to use balloons to create sculptures so he could continue making
art after going completely blind.
Since then, he has created balloon sculptures around the world, and this week he
created one in Gallery Nucleus, 210 E. Main St. in Alhambra.
The 40-foot-long and 20-foot-tall sculpture will be on exhibit in the gallery noon-8
p.m. Sunday and then noon-7 p.m. Tuesday, at which point a public popping
ceremony will be held to dismantle the sculpture.​